Why would a professional orchestra want to come here?
News
News Story
Jan Ford, Senior Creative Producer, reflects on five years of the Classically Yours programme in the East Riding of Yorkshire.
Classically Yours was conceived one bright frosty morning at a meeting between me and June Mitchell - the Community Arts Officer for East Riding of Yorkshire Council - in Leeds Playhouse's cafe, a favourite meeting place for us. There was a look of exasperation on June's face, and it wasn't to do with not be able to find a parking space. "We just have to do something," she said. "Two concerts a year is not enough. The East Riding is a huge place and people deserve to be able to enjoy live orchestral music in more places - like Pocklington, Driffield and Withernsea," she said. "Where?" I said.
Four years later, by April 2020, Classically Yours has worked with 6 orchestras, reached 6,900 people, created 17 new pieces of music and produced 40 events plus established a year-round music programme in residential homes in Withernsea and the surrounding area.
It wasn't easy to engage with people at first. Withernsea is one of the so called 'left behind' communities who experience significantly worse outcomes across education, health and employment than other equally deprived places, and England as a whole.
There was and remains an undercurrent of suspicion."Why would a professional orchestra want to come here?" "We don't deserve this." "This is not for me." Gradually we're changing hearts, minds and ears. It's a long process. Manchester Camerata are now considered Withernsea's 'resident' orchestra. Percussionist Janet Fulton is recognised in the town and the recent virtual choir project, Unlocked Voices, has enabled people to keep connected to 'their' orchestra even during lockdown.
How did we engage people not used to being noticed? The answer is to personalise and co-create and commit for the long term not just a brief hello. All our projects with communities in the East Riding have been participatory and involved professional orchestras, musicians, composers and conductors and developed the skills of musicians in the locality. They have all been co-created with communities collaboratively. From the music and performance created by learning disabled theatre company Wolds Wonders and Stamford Bridge Community Choir with Sinfonia Viva and James Redwood in Pocklington, to Kate Pearson's monumental 'Bluebeard of Withernsea' composed with and performed by young people from 5 local schools, and Richard Taylor/Janet Fulton's 'Pictures of the Mind' composed with 8 care home settings and staff, performed with the Withernsea Ladies Choir with Manchester Camerata in Withernsea in March 2020 (just in time!), they have two things in common: authenticity and quality.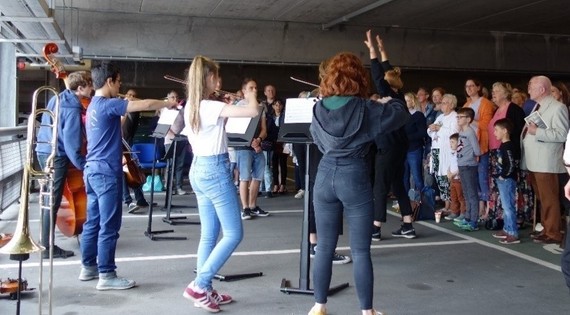 Classically Yours goes forward into its sixth year, undaunted by the challenges of Covid in 2020. We are planning to reach more people in communities across the East Riding with world class orchestral music because orchestras do want to go there and they are for the likes of everyone.
Download our Impact Report for Classically Yours 2016-2020
---