Create Yarmouth partners diverse local communities with professional orchestras for life-enhancing experiences, skills and cultural exchange.
What is Create Yarmouth?
Create Yarmouth is a rolling orchestral strategy in Great Yarmouth which aims to engage young people and adults in inspirational music events, skills-development and creative projects that raise aspiration, provide learning pathways and improve people's wellbeing through collaboration with world class musicians, composers, digital artists, producers and arts managers.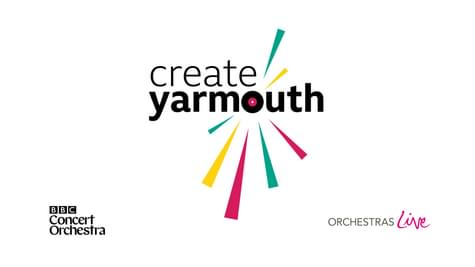 Create Yarmouth launched in spring 2020 with an initial residency by London Mozart Players. From January 2022, the BBC Concert Orchestra began a three-year residency co-produced with Orchestras Live and our partners in Great Yarmouth and Norfolk.

Our co-producer and resident orchestra
The new residency builds on the BBC Concert Orchestra's work in learning and participation activities across the UK, which includes the orchestra taking a leading role in the BBC Ten Pieces programme, as well as in the BBC Young Composer competition and the BBC Open Music programme.

The story so far:
During the first two years, online and in-person workshops at all eight primary schools in Great Yarmouth have led to full-scale performances at St George's Theatre and The Drill House, enabling hundreds of children to experience a live orchestra for the first time.
Presented by BBC Concert Orchestra percussionist Alasdair Malloy, both events had distinctive themes. Mission Earth (May 2022) was a musical adventure with an important environmental message, whilst The Incredible Orchestral Time Machine (June 2023) featured music relating to different time periods, woven together with aspects of local history to make the narrative even more relevant to the audience. The latter event was streamed so that nearly 4,000 children at 32 schools across Norfolk could also engage with the live experience.
A more in-depth project has been Share Sound II, in which music was co-created and performed by more than 50 young musicians from four schools across Norfolk, working closely with their music teachers, BBC Concert Orchestra players, instrumental tutors from Norfolk Music Service and music leader James Redwood. A creative process spanning six months culminated in a performance at The Drill House in March 2023, with local young creatives involved in the filming and photography as well as presentation of the event.
Supporting the work of the Heritage Action Zone and Out there Arts, pop-up performances in the town centre were held in June 2022 by a wind quintet from the Concert Orchestra, engaging with a range of community groups and new audiences.
A range of public concerts have been held at venues in Great Yarmouth, with ensemble performances at St George's Theatre in May 2022 and March 2023, and a full orchestra concert at the Hippodrome Circus Theatre in July 2022, the latter broadcast on BBC Radio 2.
A further significant event took place at the Hippodrome in September 2023 as part of the BBC Proms festival, when the BBC Concert orchestra led by their newly appointed Chief Conductor Anna-Maria Helsing, performed a programme reflecting the iconic circus venue, as well as a new commission Seascapes by Norfolk based composer Sarah Rodgers. This concert was broadcast on BBC Radio 3.
The Concert Orchestra will also host one of its national Young Composer Days at East Norfolk Sixth Form College, targeting young producers and creatives of all genres.
Looking ahead to the final year of the residency, plans are evolving for further engagement with schools and young musicians, including co-creation workshops and shared performances, as well informal performances at community settings including collaboration with the local Portuguese community.
Create Yarmouth is co-produced with the BBC Concert Orchestra, in partnership with Norfolk Music Education Hub, Norfolk Museum Service, Norfolk Arts Service, Enjoy Great Yarmouth, Creative Collisions, Out There Arts and St George's Theatre.