Since 2016, our Cumbria Calling projects have been inspiring young musicians and have established an ever-growing young composer group in the county.
What we wanted to achieve

Cumbria Calling was designed to develop and raise the performance and composition skills of young people across the county, targeting those not currently engaged in local music programmes and signposting further education and career pathways in the creative industries. The initial goal was for a long-term project that would create and develop a young composer group in Cumbria, the idea being that by the fourth year, some young people would have been part of the project for four years.
We set out to create a programme that would be led and directed by young people and that touches upon a range of genres in a series of residencies and workshops alongside professional musicians. The project also aimed to involve the County Youth Orchestra in workshop activity throughout the project, transforming the group into a more creative ensemble by trying out compositions by the young composers from the development stage through to performance.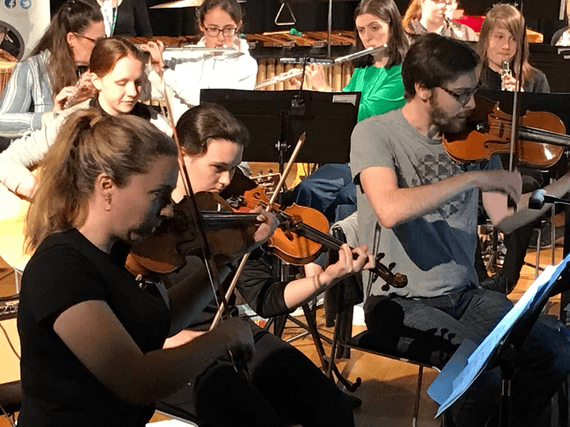 It was great. I've really enjoyed all aspects of the project. I have made new friends and learnt so much about writing music and how an orchestra works.

~ Project participant
What we did
To date, there have been four Cumbria Calling projects:
Cumbria Calling: Tales of Cumberland took place from December 2016 to September 2017. In a series of workshops and a residential weekend, 28 young people led and directed the content of the work, creating "Tales of Cumberland". The three-movement multi-genre suite for orchestra and turntables was performed by the Cumbria Youth Orchestra conducted by Alice Farnon in Carlisle to an audience of 857 people. Supported by composer Andrew J Smith, DJ Kris Gjerstad and musicians from Manchester Camerata, the group learned how to compose, socialised with young people outside their schools and had the thrill of hearing their work performed by an orchestra.
Cumbria Calling 2: Tales of Eden set out to inspire and engage young people in the Eden Valley, a rural and isolated part of Cumbria. Participants composed music for orchestra and choir with a group of young composers from the previous year's project acting as mentors alongside Andrew J Smith, Manchester Camerata and vocal coach Tosin Akindele. Through workshops and a residential weekend in Penrith, the group composed a new song cycle for primary schools to learn and perform with musicians from the Cumbria Youth Orchestra, Cumbria Youth Choir and Manchester Camerata which was performed in a large-scale concert in Carlisle.
Cumbria Calling 3: Coastal Connections took place between January and July 2019. In a similar format to previous years involving workshops in schools and a residential weekend at Rosehill Theatre, young composers created a piece called "Spirit of Adventure" which was performed by the Cumbria Youth Orchestra alongside professional musicians in Carlisle. The new composition was also performed in primary school concerts with a 13 piece Manchester Camerata ensemble conducted by Robert Guy. These concerts were prepared and presented by the young composers.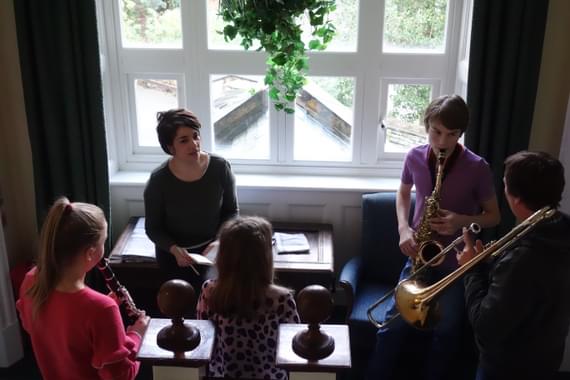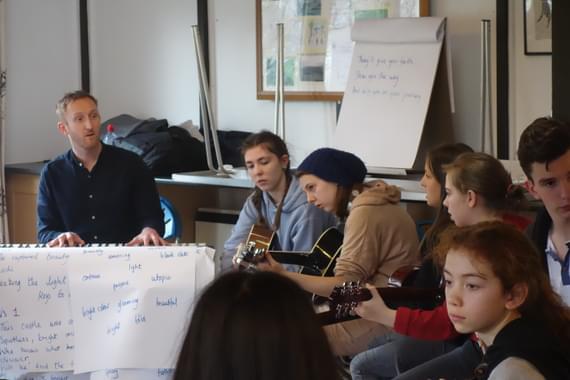 Encountering Wordsworth (Cumbria Calling 4)
Encountering Wordsworth (Cumbria Calling 4) is an inclusive large-scale music, poetry and multi-media partnership project that is part of Re-imagining Wordsworth, a celebration of the 250th anniversary of the birth of William Wordsworth. It brings together primary schools and young composers in the Lake District to create a new composition inspired by Wordsworth and his relationship with nature. The final performance scheduled for April 2020 was postponed due to the Covid 19 pandemic, but activity moved online to create a short film of participants' work up to that point. The final piece will be filmed and recorded by Manchester Camerata, composer/arranger Laura Bowler, sound artist Dan Fox and participants in spring 2021. The new piece will be the central part of a performance broadcast online to celebrate Wordsworth's 251st birthday in April 2021.
It was fantastic to hear the pieces in their final form. Really very special. Thank you so much for inviting him to be part of this project. He's really enjoyed it and it's fuelled his passion for music further.

~ Parent of a project participant
Outcomes
Looking back at the first three years, we have noted the following outcomes:
The long-term nature of the project being neither a one-off composition project nor a short-term piece of activity - with participants engaged over months, or even years - has provided a clear route for musical development and progression in composition.
Young composers have returned to the project year after year, learning and developing their skills. This has provided continuity for the project, and given the opportunity for young composers to work with others across the county. Those who have returned to the project have become mentors for the new participants.
The County Youth Orchestra has workshopped all the new work by the young composers team at their rehearsals and fed back to the composers, often in the moment. This has been a hugely valuable experience for the composers, who have been able to hear the music they had composed live on numerous occasions and be able to make changes before the final performance. It's not often you can hear the music you are composing played by an orchestra before the first performance. The musicians in the youth orchestra have also become more interested in new music through this process.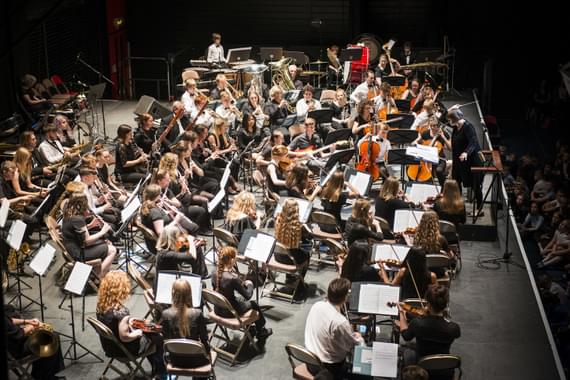 The quality of the professional musicians and composer involved in the project has been invaluable. Composer Andy Smith provided a flexible and approachable environment where young composers were treated as equals. His arranging skills helped to turn their ideas into full size orchestral works, and through the process the young composers learnt a great deal. The facilitation skills of the Manchester Camerata musicians meant that the young composers' voices were really heard.
The social aspect of the project was an important factor. Participants came to the project from different schools, towns, villages and backgrounds. A residential weekend became a key feature in all projects and was where most of the music was composed and friendships made.
Participants were engaged on an equal level, regardless of their existing musical interests. This included those who were on a more 'traditional' musical path, already playing orchestral instruments and taking part in ensembles, to those who were more independent musicians with a preference for different musical styles. Cumbria Calling was able to foster interest in composition and broaden the musical horizons of both.
Before I'd participated in Cumbria Calling I'd avoid sharing my ideas because I felt they probably weren't good enough however Cumbria Calling has helped me to be more open with my ideas because we would go round the group each person sharing an idea. This was really beneficial for me and I found my ideas were taken taken into consideration and included and this has greatly increased my confidence.

~ Participating young composer
Partners, performers and venues
Orchestras Live, Cumbria Music Service, Manchester Camerata, The Hadfield Trust, Hawse End Residential Centre, The Sands Centre, Trinity School, Cumbria Youth Orchestra, Cumbria Youth Choir, Rosehill Theatre, Lakes College Distington, Wordsworth Grasmere, Cumbria Development Education Centre, Laura Bowler, Dan Fox, Sandgate School, Fairfield, Grasmere and St Cuthbert's Windermere Primary Schools.
---