In 2018, Orchestras Live won the RPS (Royal Philharmonic Society) Music Award for Audiences and Engagement, with our partner East Riding of Yorkshire Council, for our flagship project, Classically Yours.
What we wanted to achieve

Originally conceived for Hull UK City of Culture in 2017, Classically Yours aims to engage new audiences by addressing the inequalities of opportunity to access high quality live orchestral music in the East Riding of Yorkshire.
Many people in the region are unable to access world-class orchestral music due to living in geographically dispersed communities with limited public transport and minimal cultural infrastructure. There is a belief that culture happens elsewhere with cultural engagement in the region currently in the lowest third nationally (Active Lives Survey 2018).
We set out to work with local communities and Manchester Camerata and Sinfonia Viva, to start to offer opportunities to engage with orchestral music, and to begin to transform people's perceptions of classical music.
In its first four years, Classically Yours has engaged 2,098 participants of all ages across the East Riding of Yorkshire and reached an estimated combined audience of 6,901.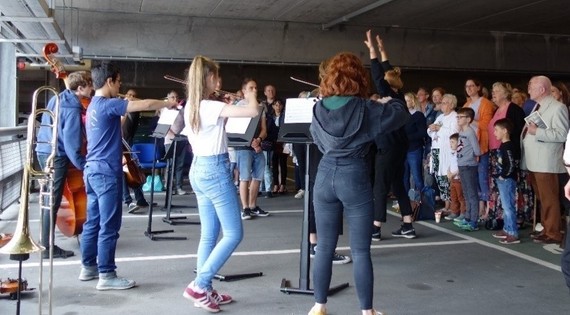 Thank you for letting my music makers be part of this amazing project. It has rekindled my desire to get music out to communities and made me realise that what I do in my corner of the county is valuable and essential in bringing people together.

~ Project participant group leader
What we did
The target project audience is young people, families, older people, people with disabilities and voluntary music-making groups living in isolated coastal and rural areas; communities where aspirations have been undermined by lack of opportunity and a belief that culture happens elsewhere.

We want to transform these long held beliefs. Working collaboratively with Manchester Camerata and Sinfonia Viva, we initially devised an interconnected programme of participatory and concert activities in consultation with local music organisations. Activities have engaged older people in care homes, community and school choirs, pre-school aged children, a learning disability theatre group and the County Youth Orchestra; activities ranged from regular creative workshops to performance opportunities.
Public concerts took place in small to mid-scale venues, often first-time orchestral music promoters, but chosen for their familiarity to local people. Classically Yours has helped develop the promoters' skills and expertise through testing new concert formats, involving audiences in programming and promoting a varied orchestral series. Consequently, a critical mass of audiences for the longer term has been established.

Our projects in Withernsea have certainly helped me realise why I do what I do. I have been humbled to witness the impact live music and creativity can have on children, young people, parents, teachers and the elderly. These projects prove what is possible when someone is given the chance. We have opened minds and I am proud to have been part of it.

~ Robert Guy, conductor
Over four years, our partnerships have:
Significantly increased the number of concerts and orchestras programmed in East Riding each year, from a baseline of 2 per year to 40 concerts over four years by six different orchestras. This has substantially improved the range and quality of the classical music offer.
Developed and sustained new audiences in the East Riding, where new audiences rose from a previous 4% to 25% in Year 1. In Year 2 repeat mailing list bookers rose from 8.5% to 20%. In years 3 and 4, Classically Yours continued to reach new audiences and maintain repeat booker levels of 12-14%.
Embedded a new creative participation strand across orchestral activity that has been key to supporting audience development and attracting new audiences. 217 workshops have been delivered over four years, engaging 35 school/community groups. 43% of these engaged with Classically Yours more than once.
Co-created 17 new pieces of music with participants.

Stimulated live music audiences in Withernsea, a small 6,000-strong community with no previous track record of concert-going, sustained into Year 3 with 22% new bookers for concerts.

Discovered large latent demand for orchestral music with families with younger children through a new strand of programming for family audiences.
Seen positive impact on community cohesion and artistic ambition.
We believe our RPS win was a watershed moment for community engagement. The RPS Music Awards are the highest recognition for live classical music in this country – the Oscars of the music sector – and our win placed projects truly driven by their local participants alongside the most prestigious orchestral venues and programmes in the UK.
That was brilliant. Would like more of this local to Withernsea. Inclusion of the primary school class was a lovely touch.

~ Audience Member, 'At Home' concert in Withernsea
Future plans
Classically Yours in 2020/21 will be working on:
A digital culmination for the School of BaROCK project with Sinfonia Viva. The live culmination concert in March 2020 was cancelled due to the Covid-19 lockdown. Participants will have the opportunity to rehearse their new music through digital workshop sessions and then record themselves performing their parts. A digital mix of all the performances will be created by the artistic team to share with participants and the wider community.
A virtual singing project with Manchester Camerata and Active Withernsea that explores creative responses to the lockdown period. Workshops will bring people together to make and share music online and participants will create a new piece of music about their town in 2020 to share with their community.
We will continue to work with partners to develop and seek further investment for the Classically Yours programme, ensuring creative participation is at the heart of the artistic offer to continue building new audiences for orchestral work.

Support Classically Yours
Our project is needed now more than ever to combat the loneliness and isolation brought about by the covid-19 pandemic.
Please help us to bring people together through music and make a difference to the lives of people of all ages in the East Riding.
Find out more and donate here
Partners, performers and venues
Orchestras Live, East Riding of Yorkshire Council (Arts, Community and Public Health), East Riding Music Education Hub, ReMarkable Arts, Manchester Camerata, Sinfonia Viva, Royal Philharmonic Orchestra, Britten Sinfonia, The Hallé, The Multi-Story Orchestra, Kate Pearson, James Redwood, Richard Taylor, Tim Steiner, Bridlington Spa, Toll Gavel Church Beverley, Meridian Centre Withernsea, Pocklington Arts Centre, Arts Council England, Foyle Foundation.
---